Mobile Scaffold Single Width
admin October 4, 2020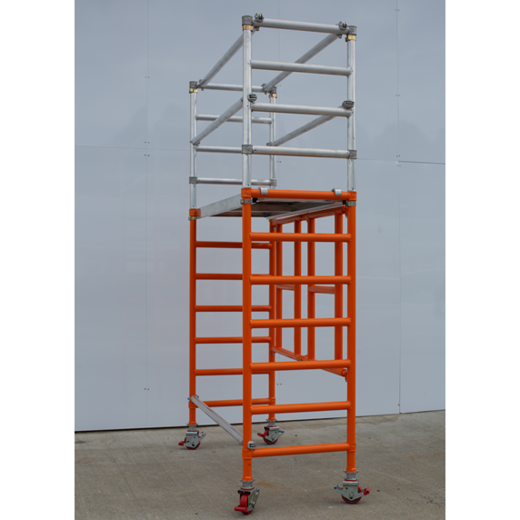 Sale!
Description
Mobile Scaffold Work Platform – Powder Coasted Base Frame
All Aluminum construction. Very Solid Construction
Manufactured under an ISO9001:2008 Quality System.
Conforms to all current NZ regulations.
This is the power coated, 750mm Wide Model.
Components include;
1 x collapsible 7 rung, powder coated, tough folding base frame
1 x Aluminum framed, marine board, Anti-slip, Platform, with entry hatch
2 x Top Safety Guard Frames.
4 x Horizontal Safety Braces (Poles)
1 x Base Unit Support Brace (Pole)
4 x 500kg Castor Wheels with double foot brake
4 x Adjustable legs
Details
Get $1000 dollars off this product Internal hatch access to provide additional access safety
This unit maintains the required safety guardrail height of 1m above the working platform.
Maximum platform height (base unit only) 1m
Maximum platform height with extension guardrail frame 2m
Easy to operate and easy to setup.
This unit can move through doorways with ease.
A safer alternative to builders steps and ladders
Folds flat for ease of handling and transportation.
This is a base unit only, ideal for multiple work heights up to 2m with a 1m safety frame above the 2m platform
This unit cannot be made into a tower as it is 750mm wide.
For a unit that can be made into a 5m tower please see our 850mm wide fold easy single width mobile scaffold.